Welcome to the Discovery Islands
British Columbia's inner coast paradise
The spectacular Discovery Islands archipelago is located along the Inside Passage, between Campbell River, north-central Vancouver Island and mainland British Columbia, on Canada's west coast. Quadra Island and Cortes Island are the best known of the Discovery Islands and home for most of the local residents. The warm, temperate climate, spectacular scenery, abundant wildlife, quiet, rural-lifestyle and endless year-round recreation opportunities all make the Discovery Islands a highly desirable place to live and visit.
Planning a visit to the Discovery Islands?
Our web site is packed with great ideas for a vacation along with useful information on how to travel to the area, where to stay and what to do here. Read more>
Come to play,
plan to stay!
There's a wide range of great places to stay in the Discovery Islands. From luxury lodges to rustic, comfy B&Bs. Find the perfect place to call your home away from home.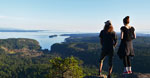 From ocean shore to mountain tops.
The Discovery Islands are gaining a reputation as one of Canada's best adventure destinations. Hiking, biking, kayaking, golf, diving it's all here and much more...
FEATURED
The Discovery Islands are featured by National Geographic™
as one of Canada's 'Places of a Lifetime'. Read more>